Modernization of the QUARTZ vibration analyzer
QUARTZ is a reliable and multifunctional device. It can hardly be called modern, but you have to work with what you have. One of the problems that you have to put up with is the need to carry an interchangeable set of AA finger batteries. The level of charge that the device shows, to put it mildly, is not reliable and the vibration analyzer can turn off at any time. Batteries had to be recharged once every 1-2 days. This article will talk about a simple way to solve this problem.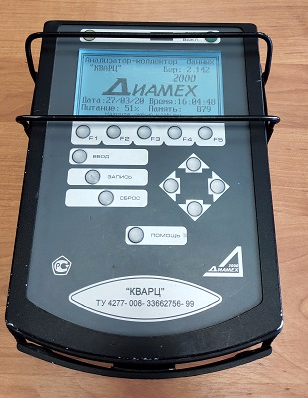 QUARTZ vibration analyzer
It all started with the fact that colleagues suggested using a power bank. Well how to use? Carry with you, think about how to attach it to the case. And then the idea was born to look into the inside of the device, maybe there is a place for a battery. There was no free space, but we found an unnecessary board for connecting an expansion unit to 8 channels. Unnecessary, because we do not have and will not dream of this multi-channel block. Having pulled out this board, we got the place we need for our battery.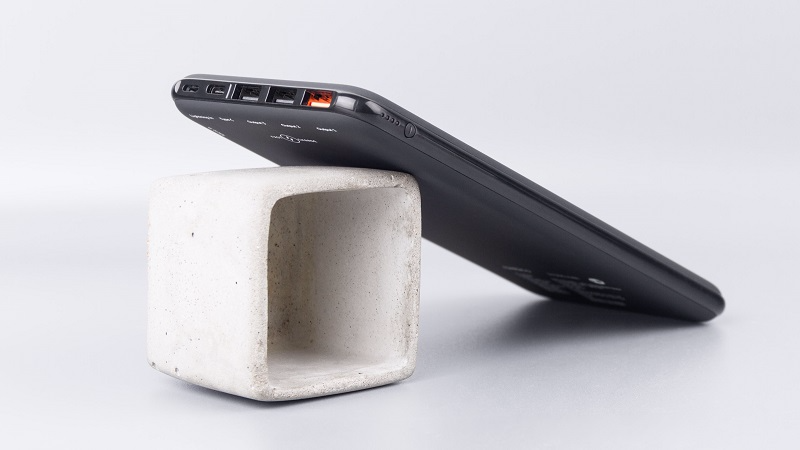 External battery Rombica NEO NS240 Black Quick
At home, I just had an external Rombica NEO NS240 Black Quick battery. The battery is excellent, and it costs about 3,000 rubles. It was decided to use it. Brief characteristics:
Battery Type Lithium Polymer
Capacity, mAh 24000
Capacity, Wh 88.8
Quick Charge 3.0 Version
Number of USB Outputs 3
Output (s) Type-C 5-6V / 3A; 6-9V / 2A; 9-12V / 1.5A (Power Delivery + Quick Charge)
USB1 5-6V / 3A; 6-9V / 2A; 9-12V / 1.5A (Quick Charge)
USB2 5V / 2.4A
USB3 5V / 2A
Input (s) micro-USB 5V / 2A; 9V / 2A (Quick Charge)
Type-C 5V / 2A; 9V / 2A (Power Delivery + Quick Charge)
Lightning 8 pin 5V / 1.5A
Weight, g 435
Size, mm 197 x 95 x 14.5
It was difficult to disassemble the battery - the plastic latches are disposable, the battery itself is glued to the case on both sides. In general, the design, although not collapsible, but we carried out this operation successfully. Further, my colleague (a very cool electronics engineer) removed an unnecessary side Micro USB connector, screwed on new LEDs - charge indicators, made a panel with Type-C and USB ports and carefully tamped it all into the device. Here's what it looks like: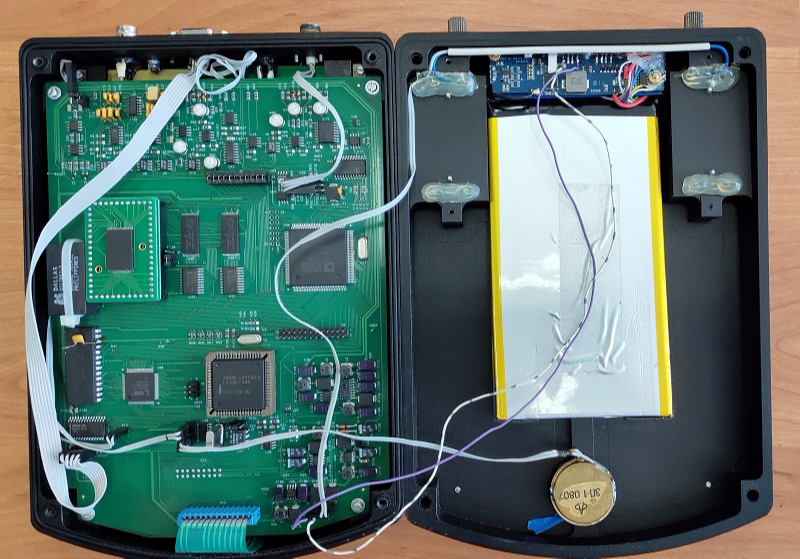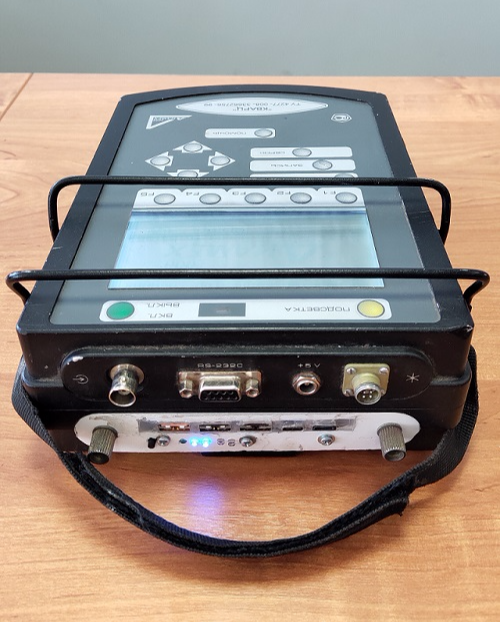 For testing, more than enough. They drove the device in hard mode for two weeks, during the transitions between pumps / fans, the backlight was not turned off, but they could not discharge this battery (judging by the LED charge indicators, about 50% remained).
Benefits:
- requires charging about 1 time per month;
- charging time no more than 8 hours;
- the ability without disassembly to switch the power of the device from finger batteries to the built-in by us and vice versa;
- the possibility of many hours of measurement (especially relevant for vibration adjustment);
- the ability to charge 3 smartphones from the device in parallel.
Disadvantage:
- the weight of the device is increased by about 300 grams.
In the future we plan to print a new panel on a 3D printer, to provide the device with protection against moisture.